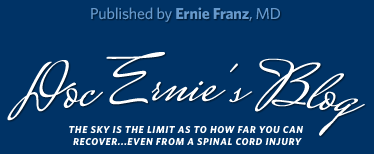 Doc Ernie's Blog
Financial Update 2010 - adjustments to life
Normally this time of year I bring to you a bicycling update, though this year has been different than the last two years which were filled with a lot of great miles and season ending goals being met or exceeded. More on that soon.
A primary focus has been on family sustainability; making good decisions and allowing us to live where we do for at least the near future. Some of the "cutbacks" have been rather minor and possibly a bit humorous; like eliminating home delivery of milk and purchasing it in our local grocery. I made the executive decision to move to a wonderful milk offered in glass bottles produced by grass fed happy cows thriving in Lynden, WA. We have given up home delivery of milk by another good company - a decision my wife laments. Yet I have reminded her, we have to make some sacrifices in order to still enjoy life as we know it; in this case we now save 20 cents per half gallon purchased!
Other changes have been more difficult, but in reflection, only more troublesome because they required a deviation from what had become our "standard of living" for the past 22 years. So merely because I now drive a VW instead of an Audi (which I had really enjoyed the past 12 years), I can be quite thankful it still moves me from point A to B reliably and safely, with better gas mileage and is still a kick to drive!
What follows is then a brief update on life and finances. I will blog about job opportunities and some medical health updates very soon (promise) ....
Since I last wrote in July 2010 about the uncertain financial terrain we have made some changes beyond just the milk we now drink!
1. We did sell both our cars, an Audi and a Volvo, and purchased two smaller fuel efficient used cars that still meet our needs - a Honda and the aforementioned VW. Though the plan was to put some money back into the bank, that did not quite happen - - yet we should be good with transportation for some time to come. Much to be thankful for in the realm of moving about safely and yet with some thrills behind the wheel. I can still dream one day of possibly owning a Porsche, and yet if it is a dream unfulfilled I am okay with that too.
2. Our home has been re-financed to a 30 year fixed rate loan at a nice low interest rate. Should our finances improve one day, we can make additional payments on the principal; yet for now this has significantly lowered our monthly expenditures.
3. We did restructure our medical/dental insurance coverage which both has lowered our monthly bills, and improved our coverage. When I last blogged, my Medicare coverage did not start July 1st as it should have. Yikes! Turns out - all my paperwork and application to Medicare was lost! Fortunately I had saved enough snippets of paper to prove successfully that I had indeed applied in a timely manner and my appeal was upheld! So by October 1st all was finally in place - Medicare coverage and a Regence MedAdvantage plan that provides me infinitely better coverage (including prescriptions and basic dental care - yeah!) - all at a lower monthly cost.
4. As for family insurance - first I would strongly urge you to seek out a clever creative knowledgeable insurance agent, which we happen to have. The market is confusing and constantly changing - quite obviously. While I completely agree healthcare reform is vital for many reasons, for now the insurers and those covered are sorting our what this all means and how it impacts rates, benefits and the future. The other four members of our family have moved to another health savings plan, but with a significantly lower monthly cost and which had the option of dental coverage! That coverage will pay 1/2 the cost of each child having their wisdom teeth removed; a huge benefit!! I have again begun to feel as though we can provide responsibly for these children Gwen and I have brought into this world.
5. I have hinted already that much of this has been difficult only because we have grown accustomed to a certain level of income and the freedoms that afforded. We have now had one year of reduced income via the ending of one of my disability policies; and though we travel less, purchase less clothing and non-durable goods, and seldom go out for dinner - life is still very good and enjoyable. Challenging - YES; a growing experience - yes, but I have much to be grateful for.
Thanks for reading! More soon.....
Trackbacks (0)
Links to blogs that reference this article
Trackback URL
http://www.docerniesblog.com/admin/trackback/230579
Ernie Franz, MD | Bainbridge Island, WA 98110