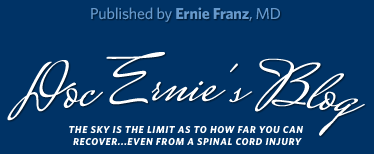 Doc Ernie's Blog
Kenya June/July Update #4
9 July 2012

Siaya, and needing to vent a little bit. All is mostly well, at least thankfully I am doing okay.

Admittedly some fear since Matt developed malaria while taking Doxycycline. He is sure he has been faithful about it, perhaps one dose taken 10 hours late. Anyway about 40 hours ago he developed teeth chattering chills, sweats and fever, with nausea and extreme weakness. Wiped out, awful feeling. No appetite. Decided to start him on the Coartem that I had bought on my last trip here. So far all is well, he is doing much better. A fast response to the meds.

Though I am fearful of what is to perhaps come for the rest of us. All others also on Doxycycline 100 mg once per day. So a bit disappointed to see it may not be the 99% effective drug I thought it was. That and now 48 hours ago I got at least 15 bites while watching Sherlock Holmes with the gang in the coach house. Feeling like the more bites I get, the more at risk I am – which is quite true.

NOTE: I did later happen upon a meta-analysis which stated Doxy is 92-96% effective; still is that per person or per single bite?

The lectures today to the "medical students" went well, though honestly the students were actually the equivalent of graduate level nursing students. So needed to flex a bit to talk at a slightly lower level, nonetheless all seemed to be well received. One more day of lectures, then onto Mundeko and Khwisero to work with the survey in that area. The 3 girls will start there tomorrow, after they spent the day observing at Siaya District Hospital.

My hotel room is pretty funky. Not quite as pictured on the internet! Two light bulbs, one of which is out often – that is, when we have power to notice it is out. Power out today for a while after a thunderstorm. No internet. No mirror anywhere, so hard to shave or groom. Sink does not work at all. Unable to wash except in the shower. The previously used sink "soaps" are actually broken chunks of the deodorizing blocks of crystals they toss into the base of urinals. Toilet leaks onto the floor. Shower basin does not drain at all, unless the water gets high enough (as the drain is the well established high point of the shower floor itself), even so leaving 1-2 inches of water in the basin. My mosquito net seems effective thank goodness, though barely reaches to the edge of the mattress. My pillow stuffed with bubble wrap for firm support! Toilet seat badly cracked with chunks of plastic missing, it threatens to completely come apart every time I sit down. Just a few of the challenges for me!! Lord grant me patience, a sense humor and continued health measured with gratitude for what I have.

Tired and off to bed, hoping that no chills and fever await. My headache through the day was helped for a brief time by a Tusker beer, but quickly returned and again in the night with Tylenol 1.0 gram just taking a tiny edge off. I think this is a caffeine withdrawal headache – no coffee or caffeine since Sunday morning, it is now 36 hours later. Wow, it is bad – I am really surprised and annoyed at how bad it is. Were I home, besides getting shots of espresso, I would be in bed. But this is Siaya, and there are lectures to give shortly.

10 July 2012

For breakfast at the Mwisho went for freeze dried Nescafe (my Dad's old standby!). Two packets in a ½ cup of hot water and I began to feel some life infusing back into my veins. Two more, and even a bit more life and the incessant headache began to fade! This was the medicine I needed. So again once more, 2 more packets before lecturing and I was running on nearly four cylinders. Shortly thereafter the headache gone – and still gone, Hallelujah!

Observed the Physiotherapy department and took several photos. They have so little equipment, very battered and falling apart at the seams (literally, the medicine balls were splitting apart at the stitched seams). They could use Pilate's balls, my Body-Blade, any hand exercises, weights, almost anything. They are hoping for a massager, a TENS unit and more. To fix their exercise bicycle they need a new seat, clamp assembly and quick release lever for seatpost adjustment.

Still the ER has no monitor, no EKG machine, no defibrillator. And this, a 220 bed hospital. In fact, no defibrillator for the entire hospital, ER, OR nor anywhere!

The beautiful African Clinical Officer (CO) who was evaluating children did not examine them, or barely so. Hannah described her as "modeling gorgeous", and Matt as "the most beautiful African he has seen anywhere, anytime". She was mostly taking a brief history and reviewing some lab tests for malaria. Sometimes would look at the conjunctiva as she reached across the desk, but no stethoscope and generally "hands off". Otherwise asking the mother a few questions and even with the Electronic Medical Record (EMR), minimal documentation. That, and she, was working for free! Finished with school, she cannot get a job apparently that pays, so just volunteers and sees 150-200 patients per day. My favorite new chief complaint by mothers for their children? HOB = "Hotness of Body". Reserving "fever" for documented temperature elevation.

Lectures today went so much better! Mostly because I was not too hot, and the headache was gone!! The students seemed quite attentive, and had worked on their learning objectives as well regarding some DKA treatment. My last lecture was on the trauma I experienced and a changed life. For some reason I struggled through it emotionally in several spots; which really surprised me. When finished they were really gracious and kind with comments. I heard a few sniffles too. The elder stateswoman nurse for them pronounced a wonderful blessing over me, and said we can see you are a Christian, that God has spared you for His purpose and work, and we pray a blessing upon you and your efforts. The kind words washed over me and were amazing, all making it worth any effort I had put forth. Then she asked one of the other Sisters to pray for me, they all stood and insisted I sit down and the prayer in Luo or Luhya was emphatically prayed. Several were very sweet.

After observing the aforementioned striking CO Helen, we went to Dr. Omoto's home where they have been without power for 24 hours. Shortly thereafter hit with a prolonged thunderstorm, we discussed the day over Chai tea with Matt feeling worse by the minute. Finally in darkness the girls returned. More Chai and then a great dinner of cabbage, chicken, rice, chipati, and broth. Matt off to bed with no dinner accompanied by shaking chills, and yet only one dose away from completing his malaria meds. Walked back the 300 yards from Omoto's to our room with thick red clay stuck to my Keens, so much that walking became very difficult. Only then to find Matt soon having prolonged vomiting and diarrhea and thankfully he could use my headlamp to aim both! So in the dark, he was wretching, bundled up with shaking chills and V&D. Ugh! Hopefully he will make a quick turnaround tomorrow.

So highs and lows both. Such is life. Glad I could share my life and information with the graduate nursing students; yet feeling bad for Matt and praying for a quick recovery. Tonight not feeling so anxious about impending malaria, but will see what the new day brings tomorrow, hopefully power for a start!
Trackbacks (0)
Links to blogs that reference this article
Trackback URL
http://www.docerniesblog.com/admin/trackback/284151
Ernie Franz, MD | Bainbridge Island, WA 98110