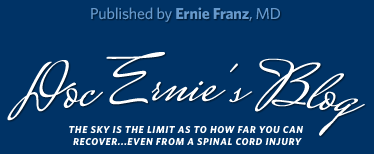 Doc Ernie's Blog
Kenya June/July Update #6
13 July 2012
More interesting survey details today. Lots of ups and downs for terrain, side hill and more rugged balance challenges. One Muslim older woman said if you urinate into a ground fissure or dried earthen crack while on your menses, then cover the fissure with earth, your uterus too will be sealed. Another when asked about birth control methods stated that she and her husband sleep in separate beds and in different rooms, that this works for them. However when asked to list the side effects of this method, she stated that it led to more quarreling and discontent in the home directed toward her from her husband. We had a woman whose husband works in Nairobi, she has very high BP, which she says is due to a witch or night runner that attacks her house all night long when her husband is away. Throwing rocks on the roof, hitting the walls, sticking fingers over the walls, between roof and walls, and running naked thru the brush when she opens the door to get a glimpse of him. Her husband supports this story. This, "the reason for her hypertension". They had 5 children, 4 have died, the one remaining lives and works elsewhere.
Another said pills work well for family planning, but when you do have a child after pills, they will be born with 10 heads. And again a story of pills swallowed go directly (this time) to your tubes, where they remain and must surgically be removed. Last Depo injections can "cause your heart to come out of its cage and move" to another area of your body, in this case the woman claimed her lower abdomen. One day while coughing and pushing there, it "moved back to its cage".
Sad case of the day was a young early 20's woman with epilepsy, on no meds, with 3 children. In April she seized and fell into the fire. Her left knee still with open wounds and scarring and oozing, and difficult to walk or put any weight on it. Her children very thin, the 8 year old girl was 16 kg and 120cm tall. Giving a BMI in my head of 11; so sad, I shed a few tears right there for their situation. The WHO says anything under 16 is extreme thinness. Did not see a husband. Nearly empty home still under construction.
Last, I had fun with Carlton, an 18month old kid. His mom said I was the first Mzungu he has ever seen in his life. We kicked a soccer ball (old plastic bags rolled into a ball) around for a bit. He would take a running start to kick the ball, very funny to watch. He is a talented kid! Well I am tired, falling asleep now while trying to type. One half day of surveying left.
14 July 2012
At breakfast Dr. Omoto asked me to preach for 40 minutes Sunday! Oh boy, a bit of panic – but how can I refuse? So prepping for that as I can. Last ½ day of surveying went fine, hitting over 355 households in total for the 4.5 days. Dinner had the usual amazing layout of foods. Again, the staff washed our clothes, ironed them, folded; shoes all scrubbed and washed to an amazing level of cleanliness. My Keens done 3 times for extreme mud; but they take their job seriously and work on anything.
15 July 2012
Preached on Psalm 133:1 and 2 Corinthians 4. Community. Tied in Dietrich Bonhoeffer's words from the Service chapter of Life Together. Spoke to our efforts to establish community in Khwisero and Miwani areas, with the challenges of sharing the gospel and scripture and praying for those in our communities. By surveying their health and beliefs and lives, we have had a glimpse into the life of those who are suffering and who, like us, as jars of clay – fragile vessels, may find ourselves suffering at any moment. However this drives us to God who gives us hope, if of nothing else, of eternal life when we are released from this life. In the meantime we can be of service to those in our community who are broken and in despair.
Omoto's church was nice, great singing and perhaps Pentecostal? At the end of nearly every song they all moved into spoken prayers – since I cannot understand the language it sounds like fervent prayer offered in tongues, but could be a mix of Swahili, Luo and Luhya. Gradually these prayers would fade and another song begun.
Again a wonderful meal at Omoto's. Photos taken. Goodbyes said.
Sylvester drove us back home to Nehemiah in just under 2 hours. Looking forward to going home which will begin tomorrow, 16 July 2012!
Trackbacks (0)
Links to blogs that reference this article
Trackback URL
http://www.docerniesblog.com/admin/trackback/284153
Ernie Franz, MD | Bainbridge Island, WA 98110