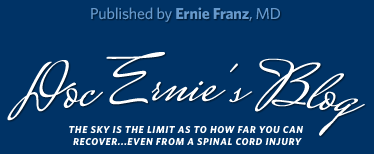 Doc Ernie's Blog
Kenya Summer 2012 summary
Indeed I did make it back home safely and without any ill effects; at least none yet (since malaria may incubate for up to one year in a liver cell before it breaks forth into the blood form with its full pronouncement and all its classic symptoms - for this reason the drug Coartem is never far from my side). Speaking of the little devil, we did end up having 4 people out of thirty from our area come down with the parasite despite "compliant" regimens of either Doxycycline (2) or Malarone (2).
So here are my final impressions of the trip.
Health Survey – The intention of the survey was to investigate the health of those living in the Miwani area that we, the NIHS Dispensary, are serving; such that we can better understand their health care needs, seek areas where we may help to educate them and to arrive at a better sense of the population of this 48 square mile area. The final format of the survey was largely determined by Dr. Jackton Omoto and Lilian (one the staff nurses at Siaya District Hospital and an assistant to Dr. Omoto). Some of the ideas from the NIHS-USA committee were incorporated into this final survey which included 42 questions covering topics such as mosquito net compliance, household income, handwashing, water treatment, family planning and also included some basic health care challenge questions to test perceptions and knowledge. Measurements were taken of height and weight of all individuals (to obtain BMI, body mass index, a reliable and established calculation of nutritional status), blood pressure in all those over 20 years of age, oral hygiene and tooth assessment (missing or obvious decayed teeth), arm circumference in those aged 5 and under, and visual acuity. The questionnaire and measurements required roughly 20-30 minutes of time to complete per household unit.
Our team along with people from NI and local community health workers (CHW's) surveyed 157 households in the Miwani area over 3 days from July 3-5. We covered Karunga, Keyo, Chebrir, Kaleng, Obino, small sections of Kibos and Miwani, and a few other areas. We were well received, though asked on occasion if we had the Miwani area chief's permission to conduct such a survey; which had been obtained in the form of a "required payment" of 3000 KSH to the chief himself.
In order to validate the survey tool, as well as to compare and contrast the Miwani population with another population group, our team also surveyed households in the Mundeku/Khwisero area near where Dr. Omoto resides (about 2 hours northwest of Miwani). There our team was joined by CHW's who already serve the population of these areas, as well as one NI staff member and two nurses from Siaya District Hospital. The survey was undertaken from July 10-14 and gathered data from 357 households.
This data, combined with additional data (roughly 700 additional households in Miwani) gathered by the BHS team, will be analyzed via the help of Dr. Omoto and someone he has hired in Kenya.
The results have just in the past few days been made available to me, and my assessment of those is to follow.
Teaching – Dr. Omoto asked me to lecture to "medical students" at Siaya. I was not certain which group of students this would eventually involve, yet I did prepare my talks for that level of education. As it turned out, I spoke to roughly 25-30 graduate nursing students over 2 full days. Topics included: Motorcycle crashes in Kenya, statistics, laws and current trends; Head Injuries; Lower Extremity fractures; General Trauma care; Diabetic Emergencies; Chest Pain; and lessons learned from my own personal story and how to better connect with patients to deliver empathetic care.
Much of the material was presented in a traditional lecture format, while other sessions involved using a small group interactive approach with some homework between days 1 and 2.
This material seemed well received with the class voicing their deep appreciation at the conclusion, even choosing to provide a blessing to me and prayer for how God might continue to use my life.
Emergency Services @ Siaya District Hospital – Most patients are routed to clinics for their acute care needs, such that over two days of intermittent visits I did not see anyone actually treated in the A&E. Given that the four physicians serving the hospital are a general surgeon, an OB/GYN, an internist and a pediatrician, there seems to be no one to fully appreciate the lack of preparation and organization of the A&E. The department appears ill prepared to handle a crisis or true emergency due to both lack of necessary equipment and disorganization of supplies.
The 220-bed hospital has no EKG machine and no cardiac defibrillator. These are not broken, merely non-existent. There are apparently two cardiac monitors in use in the operating theaters, but none for use anywhere else in the hospital. Approximately 95% of the supplies in the A&E are locked behind cabinets, all which have separate keys, and no labeling system for either keys or supplies. The "mobile crash box" is quite immovable and fixed to the floor. Any given cabinet, once opened, revealed a random supply of gauze dressings, syringes of epinephrine, rubber boots, bottles of IV fluid, and medications from anti-hypertensives to glucose tossed loosely in piles or mislabeled boxes.
Beyond the addition of a cardiac monitor, EKG machine and defibrillator for the A&E they clearly need an extensive re-organization of medications, supplies and equipment to begin to be able to respond to crises both in the A&E, but also within the hospital itself. I was told this area was staffed continuously and that theft had not been a problem which further had me thinking a few days of re-organization and the addition of some key equipment may indeed save lives at the hospital.
Of course given this system no one needs to know CPR! There is simply no reason for CPR; nothing to correct or change. If your hear stops, you are done. DRT as we say in Emergency Medicine - Dead Right There.
NIHS Dispensary – Nurse Esther and Lab Tech Ken are doing the best they can with little to no supervision, and limited resources. They appear always willing to open the dispensary doors whenever a patient presents to NIHS, even when scheduled to be closed. It was difficult for me to actually observe patient care being delivered. I did request text messages for when someone ill presented to the clinic, but that did not happen. Other times of direct on-site supervision saw them evaluating either simple rechecks or minor problems. My sense is that most care delivered is via consultation only, meaning taking a history and deciding what course to follow. I saw very little physical examination ever take place either in Siaya District Hospital or at NIHS dispensary.
There does seem to be a strong intention of requiring people to pay for their medications received. Not so much for actual care delivery, but at least for the cost of medications themselves. I did obtain an excel spreadsheet of current mediations in use and the cost to NIHS. I have yet to complete that evaluation, but from what I saw medications were far less expensive than I had expected – even IV medications such as Ceftriaxone 1.0 gram cost roughly 85 cents per dose.
Final Conclusions:
There is much to be done!! Admittedly at times I felt the extent of the need was so great, there was little chance of success. But what is success? It is not re-creating even a portion of the (rather flawed) American health care system in Kenya. I think it is bringing some measure of health and hope to the people of Miwani and Siaya through our efforts of education, equipment and the provision of and access to healthcare that is otherwise non-existent. IF NIHS is to grow it will need an energetic and creative nurse manager who can work closely with CHW's to create an effective program that encompasses the following: continued treatment of people at the NI dispensary; establishing an HIV/AIDS program; offering expanded immunization and de-worming programs to even more schools in our area; educating those in the villages in regard to water treatment, common illnesses, and family planning; and possibly the development of a response system whereby we can transport ill patients to the dispensary or to the hospital depending upon their condition. I envision obtaining a dedicated all-road vehicle which can respond to cell phone calls from Community Health Care Workers to transport those to ill to make the up to 6 mile walk to NIHS. All of this will require ongoing financial support and careful management.
Trackbacks (0)
Links to blogs that reference this article
Trackback URL
http://www.docerniesblog.com/admin/trackback/289537
Ernie Franz, MD | Bainbridge Island, WA 98110