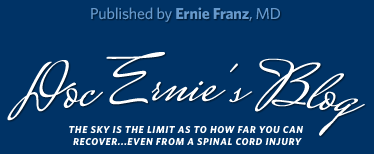 Doc Ernie's Blog
Summer 2013 update - falls, bicycling, a bothersome knee and Africa
Well much has transpired since my last entry. Some good, some not so good, and yet I keep on bicycling and doing what I can to support our family and be involved in the life of our community. Just a week ago the 9 year anniversary passed of my trauma. Still hard to believe; though also what life used to be like is getting to be a distant memory too. The new normal.
First the bad. In December I fell on our stairs over our 105 lb. Bernese Mountain dog. I had stepped on his tail and slid, falling backwards actually but forcibly flexing and rotating my right knee underneath me. After lying on the landing for perhaps 5 minutes waiting for the tone and general spasms to dissipate, I got up to find my knee was none too stable. To cut through weeks of uncertainty and a few more falls in the meantime, basically I shredded what little cartilage was remaining in my right knee. The joint space filled with debris and floaters, which cause either knee locking (stuck in partial flexion, unable to flex or extend further) or sudden collapse (thus a fall again down the stairs just when I thought all was well with the world). Many phone calls, exams and consultations later - we decided the best course was Physical Therapy. Failing that, a surgical flushing out; despite the fact the plain films and the MRI looked as though a total knee was in order! The good news - no pain at all (since I have almost no sensation below the waist), and even better yet, PT again worked wonders! Time heals - well that and PT, and prayer and a knee brace and perhaps even Wobenzyme (a German developed combination of anti-inflammatory enzymes).
Gradually, by March, I could begin cycling indoors for up to 10 minutes! But quickly due to my improvement the 10 minutes became 30, then an hour, then pushing personal records on a Compu-Trainer. Soon it was outdoors, and since sometime in April I have managed to get in about 1400 miles on the road! Lots of knee clunking and popping, but no collapses nor locking. My weight back below 170 and a hope for further improvement. Still a scope and a wash out are likely on the horizon, but who knows. Time will tell.
Africa, book writing and further updates .....
Africa. Briefly. No malaria - having passed the one year anniversary of my return. The village survey data stayed with Dr. Omoto in Kenya. it has been analyzed, but needs more work. Primarily we need a number cruncher and person who excels at Excel to present the data into a usable format. In the meantime I was asked to become the Executive Director for Nehemiah - USA, the supporting arm of the Kenyan effort. The organization is undergoing some change, primarily in regard to Kenyan efforts. While the future of the Miwani farm itself is uncertain, we are committed to supporting the roughly 17 students associated with the farm by providing school fees, tuition and support. The medical clinic on the farm seems unlikely to remain open past the new year of 2014. Though it is likely I will remain involved in some capacity with medical efforts in Siaya and Mundeku areas in western Kenya. Travel there may occur at the end of this year, though that remains to be seen.
Mostly our US based board is trying to figure out where we can create the most good with the designated medical support funding we do have. A trip to Kenya will likely help to clarify that, but is unlikely until possibly December 2013.
Sadly, the changes with the Miwani farm support have mostly to do with one Kenyan individual who has not wanted western (either EU or USA) involvement. That single person has enough physical power and threatening language within his grasp, that he has successfully brought to a halt our ability to support the ministry and the people involved. Though we too desire to see a Miwani farm run by, staffed by and managed by Kenyans (just as he does), the way forward with him remaining involved is blocked. Stay tuned as we work through this. Pray for those on the ground there. It has to be difficult.
For years, even shortly post-trauma, I have thought about writing a book of my experiences and lessons learned. The past 18 months have seen me get more organized in that regard. I now have close to 50,000 words written and hope to soon (in the next month or so) get that off to some readers and an editor. My goal is to have something in print by the 10th anniversary of my injuries - August 23, 2014.
On the family side of things, our youngest - Heidi - graduated from Bainbridge HS this past June. She will attend Seattle University beginning next month with intentions of pursuing photography or photo-journalism. Daniel in the meantime will begin his final year at Seattle Pacific University in computer science. Evan is working at a great job in Portland doing commercial sewing at Spooltown. Just when you thought Gwen and I may be empty nesters, no - that is mostly not happening! Gwen herself is heading back to finish her doctorate in music at the University of WA combining classical viola studies with jazz. So I should be able to find the time to focus on completing this book project. In the meantime I will be continuing my volunteer work at the University of WA school of medicine with first and second year medical students in Introduction to Clinical Medicine and also teaching physical exam skills.
Thanks for reading!
Trackbacks (0)
Links to blogs that reference this article
Trackback URL
http://www.docerniesblog.com/admin/trackback/304986
Ernie Franz, MD | Bainbridge Island, WA 98110