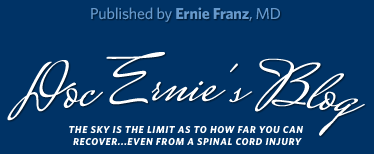 Doc Ernie's Blog
Fall 2014 update (finally!) - Life and Mom....
Could it really have been over 14 months since an update? Yikes.
The good news, then some really sad news to report and a tribute.
Kenya 2014 - Yes before the Ebola scare I traveled to Kenya in February of this year to look at several potential projects in support of Dr. Omoto as well as to visit Nehemiah International, the farm in Miwani. I traveled with Greg Livdahl our Chairman of the Board (his first time ever to Europe and Africa!). We had a fabulous time; visiting many clinics and hospitals to look at their challenges. Teaching on Emergency Medicine trauma topics (primarily motorcycle trauma); and a great visit to the farm. The students we support are doing well, as we were able to meet several of them. The farm itself is seeking outside support as our funding (shrinking) is directed more to the students and to the medical work of the Nehemiah clinic and Dr. Omoto.
The Book - I did finish my first rough draft in December of 2013. Editing has been slow - - very slow. Excuses, excuses, well YES! Kenya, life, bicycling (I did reach again over 2000 miles on the road - now my second year in a row), intensive care for our Bernese Mountain Dog from January til August (at which point, sadly, he needed to be put down), and within a week of that, and most vitally important, my dear mother was diagnosed with stage 4 Endometrial cancer (Uterine).
She elected, after surgery, to have Hospice care only, and declined chemotherapy. Fortunately she suffered minimal pain and distress, did get to say her goodbyes to everyone, and thanks to incredible support was able to remain at home throughout it all. Sadly she has left us - free of this life as of October 31, 2014. I am grieving, and yet filled with the memory and spirit of her. The Obituary I wrote, a tribute, to follow.....
Esther Yonan Franz
June 12, 1932 – October 31, 2014
Esther Yonan Franz was born in Chicago 1932 as the second of 4 children raised by her Middle-Eastern immigrant parents who continued a family owned Oriental carpet business begun in 1906. Yonan Carpet and flooring is still family operated and thriving to this day. She was a brave and beautiful Assyrian girl who was game for anything from playing baseball (even into her 70's after having grown up in the shadows of Wrigley Field) to driving a red Galaxy 500 convertible in the 1960's (something a pastor's wife was just not to do in that era) . While in college in the early 1950's she ran for Prom queen as an independent solely because she was fed up with the status quo; there she beat out the popular sorority favorites and the reign of Queen Esther began. In 1952 she met Faris Franz, a dashing McCormick Theological seminary student while they worked together at an inner city home for displaced and troubled youth. They married in 1954. Together they formed an effective ministry team; Faris the intellectual scholarly pastor, Esther performed the emotional and relational field work. They produced four boys. The oldest of who was gravely disabled and ultimately could not live at home. This profound sorrow was overcome by Esther's deepening faith, love and sincere interest for her family; characteristics that were extended to all she met at her husband's five Presbyterian Church assignments. Throughout her 38 year career as a pastor's wife she established a loyal network of friends from Indiana, Florida and Illinois; and in "retirement" on Bainbridge Island since 1997. She always had a special inclination towards those who found themselves as a minority, whether by race, religion or other preference; especially working to see that African-Americans were treated with the full respect they deserved, even in the late 1960's to 1970's as she and her husband continued to serve despite threats of harm in Florida.
Esther remained active in volunteer work her entire life wherever she resided. She sought out all those in difficulty, suffering or with disabilities in order to share her love, bright eyes, listening ears and encouragement. Her five grandchildren loved being with her as she helped grow their talents, teaching them cooking, sewing and home-making; not to mention how to live simply and remain content in this life despite the inevitable losses, hardships and disappointments that will come. Esther had experienced more than her share of these in the death of her oldest son at age 16, and especially in the sudden loss of her husband Faris aged 63; after 39 years of marriage and just into his first year of retirement shortly after the two of them had built, much by themselves, their dream log cabin home in New Harmony, Indiana.
She brought much wisdom, peace and love to those fortunate enough to know her. Her presence is deeply missed, yet her spirit and love for all of mankind will live on in each of us blessed to have called her mom, sister, grandmother, aunt, or friend.
She is survived by her sister Ruth Yonan Iyengar (spouse Hal), brother David Yonan (spouse Karen), and sister-in-law Nancy Yonan; her three remaining boys Ernie (spouse Gwen), Andy (significant other Brigitte) and Steve; and her five grandchildren Evan, Daniel, Heidi, Helen and Faith. As well as several nieces and nephews.
A celebration of life and memorial service is planned for Saturday November 22 @ 3pm at Rolling Bay Presbyterian Church. In lieu of flowers, the family requests you consider a donation to Esther's favorite charities: Heifer International or Habitat for Humanity.
Trackbacks (0)
Links to blogs that reference this article
Trackback URL
http://www.docerniesblog.com/admin/trackback/318127
Ernie Franz, MD | Bainbridge Island, WA 98110