Well, now that we are officially into the 2010 cycling season (sort of anyway - waiting for the roads to dry, a bit of sun and temps above 45F), thought it was finally time to give a brief recap on the adventures of 2009. Overall it was a great season with roughly 2500 miles logged on the road.
As for what has now become my standard season ending ride, the goal was once again to complete 100 miles at the Dam2Dam Mike Utley Foundation bike ride the last weekend in September. A fund raiser for spinal cord research and for other such beneficial projects to help those with SCI find life and hope once again.
My amazing wife Gwen, and faithful physical therapist Keith Heinzelman, were in attendance. Our plans changed however the night before the ride when Gwen, carrying all my bags of gear with her vision blocked, sprained her foot on the curb at the Wenatchee Holiday Inn. This shortened her ride for the next day due to swelling and pain with weight bearing....she was to miss out then on the adventure Keith and I were to have!
In 2008, and recorded in this blog as well, I was able to complete 100 miles. This year the course was altered by a tragic accident which closed the Beebe bridge, a normal part of the 100 mile route. The bridge was structurally damaged by an apple semi-truck about a month before the bicycle ride. Sadly two people lost their lives as the cab tore through the railing and plunged into the river below.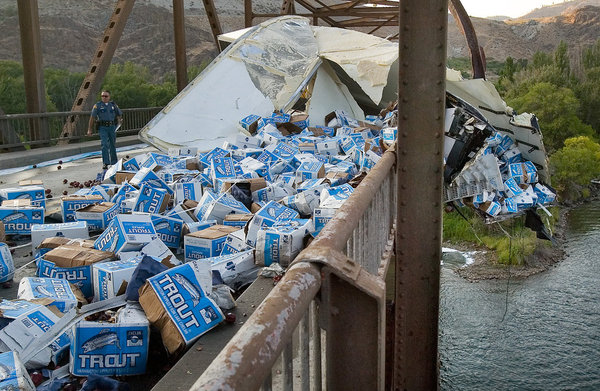 With the bridge sagging and in need of vital repairs, the route had to be changed. This resulted in our facing a significant climb which began just 30 miles into the route. Though only 5.3 miles in length, the average gradient was over 8% with several sections over 12% - gaining 2200 feet in those few miles.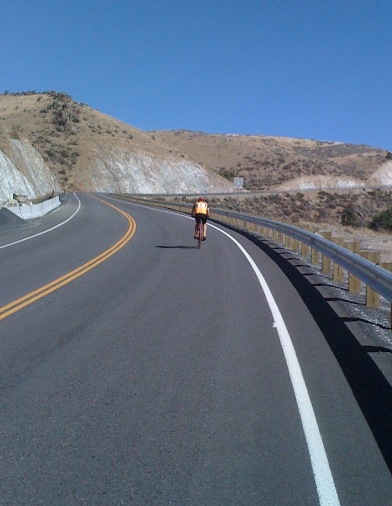 For the entire climb my HR was between 170-185 for 1hr 20min. If I was not an incomplete quad, it would have been a challenge - but this was in a real sense hors categorie for me. With prayers for strength and thinking of all the people supporting us, Keith and I did eventually make it over the climb to get to the flatter 60 mile long section - - we briefly thought much of the day's work was done......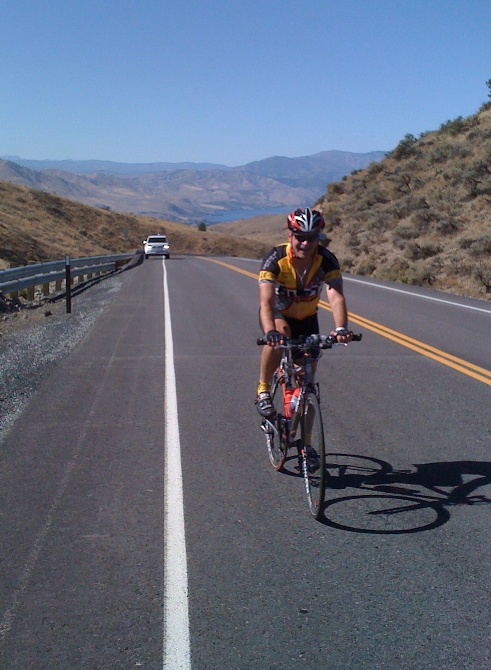 But found at the top of the climb we had now winds reported steady at 30-35 mph with gusts to 40! An all too brief 5 mile tailwind section was completely enjoyed (no pedaling required to coast along at 30+ mph), followed by somewhat manageable crosswinds (that meant leaning hard into the wind to somehow just stay on the road) for 15 miles, but then turning a corner we faced 40+ miles of full-on increasing headwinds!!

Keith and I rode into this unrelenting wind with our best effort at 4-5 mph for perhaps 90 minutes, HR around 160 for the effort, and it was all we could do to stay upright! There was simply no way to even take a hand off the bars to grab a sip of water, as it would have resulted in a fall. We were using every available muscle group just to respond to the winds and not be blown off the bike. In a sympathetic act of kindness one of the support vehicles began motor-pacing us and attempted to block some of the wind for over 5 miles, which helped Keith and I to get another 1 mph of speed. The wind was so strong that on downhill sections we could hit almost 6-7 mph! When we finally realized it was 3:30pm (stopping to look at a watch) and that we had 38 more miles to ride, most of it still into the wind (at that pace possibly 7+ more hours on the bike as Keith reminded me) - we came to our senses and abandoned Plan A.
A purely "guy thing" had happened up to that point. As it turned out in our eventual debriefing of the ride, Keith was so ready to get off the bike and into the support vehicle - but he did not want to suggest that because after all, he was by far the stronger of the two of us, and how could he admit that to a quad who seemingly was determined to finish the ride? As for me, I had badly wanted to get a ride in the support vehicle, but assumed there was no way Keith would let me give up after we had made is this far! A communication gap, finally closed by the reality of the pace and number of miles left to ride into the gale.
So the last two riders on the course got a support vehicle ride to where Keith and I could meet up with Gwen. Now off the windswept plains of eastern Washington, along the Columbia river, the 3 of us rode back the last 10 miles to the finish in much calmer conditions - as we chased Gwen who paced us home.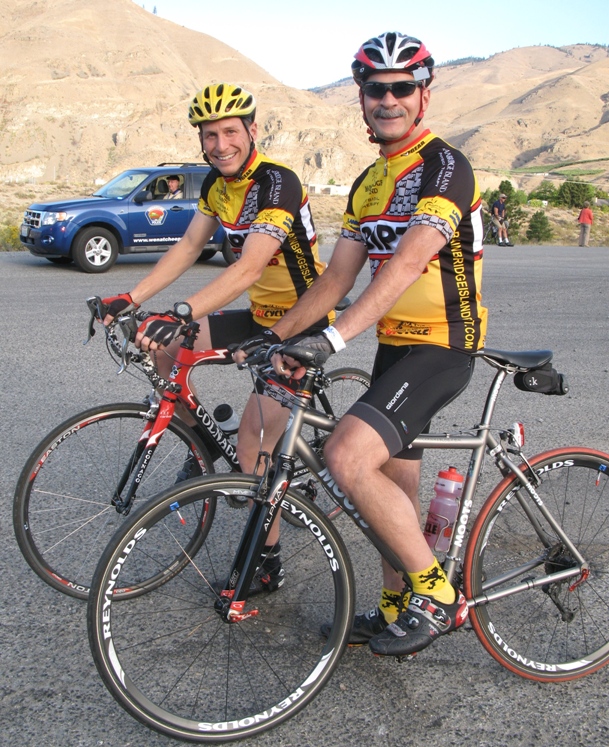 At the end of the day Keith and I had cycled 70 miles altogether. Gwen cycling and excelling at being a patient, prayerful and understanding wife. Some final statistics for this 51 year old incomplete quad from the day: Riding time 6hrs 7 min, 70 miles, average speed 11.4mph, maximum speed 39.7 mph; average heart rate for the ride 151 beats/minute, maximum HR 186. So my HR was over 160 bpm for 39% of the ride, or for 2hrs 21 min. That's a few calories burned and certainly an epic adventure!
Two weeks later, with Gwen's encouragement, I made up for some of my "missed miles" by riding 44 miles roundtrip to a scheduled doctor's appointment. He and his office staff seemed to get a kick out of that. So for now I am once again indoors with group fitness spinning classes, until the drier slightly warmer weather appears. This changed life is not easy, but it still is very rewarding, challenging and exciting. I'll try to write more soon.....Thanks for reading.