By early summer 2005 I began thinking with my wife and PT what we could do for the one year anniversary of my trauma. Soon a plan was hatched that involved my bicycling past the scene of the crime on the day of the life changing trauma, this time to make it home! Problem was, I had not yet ridden a two wheeled bicycle on my own. By late July, it was time to give it a try.
Keith Heinzelman, my PT, and Kelly Campo, another PT whom had known me for a long time, came over to our house to figure out how we could get me on my mountain bike. We were unsure how my balance would be, what my leg strength would be like, how braking and shifting would work. On that memorable day I kept my gait belt on so Keith could run alongside me and remain attached somewhat to me, as a father would with his child, as I attempted to balance and pedal.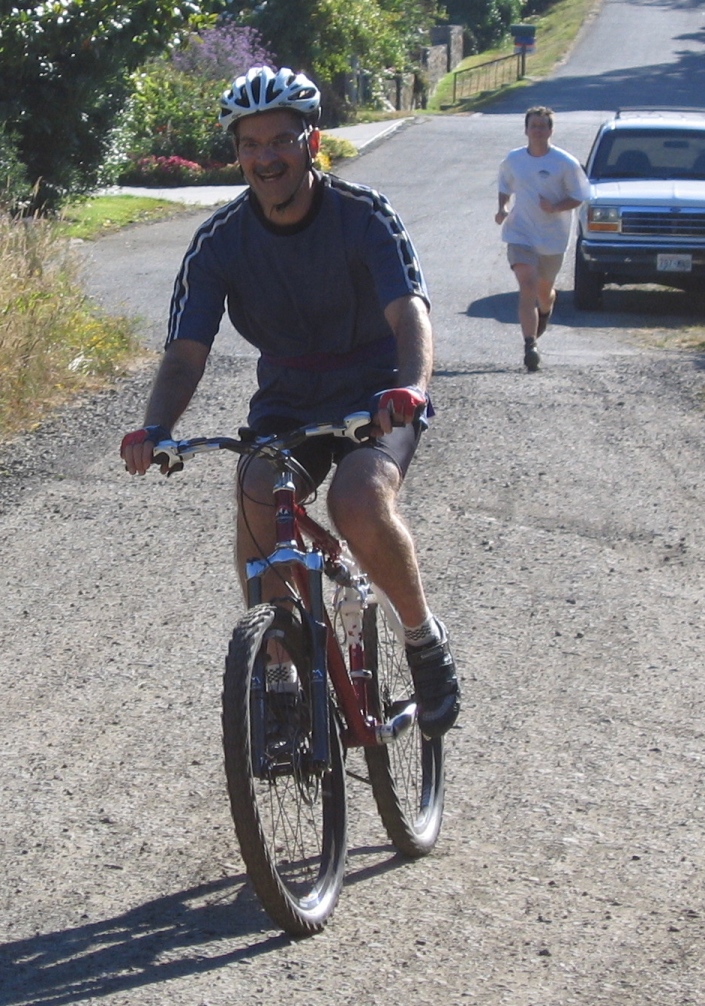 Well, as you can see from this gleeful smile on my face, the plan worked!! That is Keith running behind me, after I had told him "I think you can let go". I had Kelly, my other PT friend, snap the picture and catch me as I headed for the grass. Just like a kid, it did not take too long to gain some confidence and desire to take it to the next level. Keith and I spent the next several weekends preparing for the ride home on August 23rd; mostly figuring out how to start and stop and shift. My main problem was starting; I found I had to have a person beside me supporting me, one foot on the pedal, hind end on the seat, and a bit of a push helped too.
So on August 23rd, 2005, one year to the date post-injury, accompanied by my son Evan and about 20 friends on bicycles including local shop owners, Bill Davidson, Congressman Jay Inslee, PT's Keith & Kelly, three ER docs, and one other member of the "flying cyclists' club", Chris Stanley (both of us hit and tossed by cars) - with a Bainbridge Island police escort, we all bicycled past the spot I was hit, and completed the short 3 mile trip home to our house. The event documented on video and will be etched in my mind forever. We arrived home on that beautiful day to celebrate life, a new life - not a life I ever anticipated, but life all the same. Root Beer Floats were shared by all. A tradition we continue to this day on every 8.23.
Emotionally it was okay, no tears or sorrow, more thanks to our Lord for allowing me to live, to recover, and not to have been hit with a brain injury in the course of events. I often think that if I did in fact suffer any brain injury, it must have been to that area of my brain which would normally be responsible for generating PTSD, or post-traumatic stress disorder, as I seem to not have no evidence of that most thankfully.
Physically it was a challenging ride, though my mountain bike had low gears, my strength was lacking and there were a few good size hills to get over. At the top of High School road my heart rate was 197, a bit on the high side! Yet from there it was mostly downhill heading home.
The next big cycling boost came in December of 2005 with the delivery of my Bill Davidson road bike. Bill had poured over every detail of the bike; having the chainstays and lugs undergo extra machining to take off excess titanium where it was not needed structurally. The finished bike weighed in at 14.8 pounds, pedals included! A carbon and titanium featherweight with Campagnolo Record, Zero Gravity brakes and Reynolds carbon fiber wheelset. Here it is: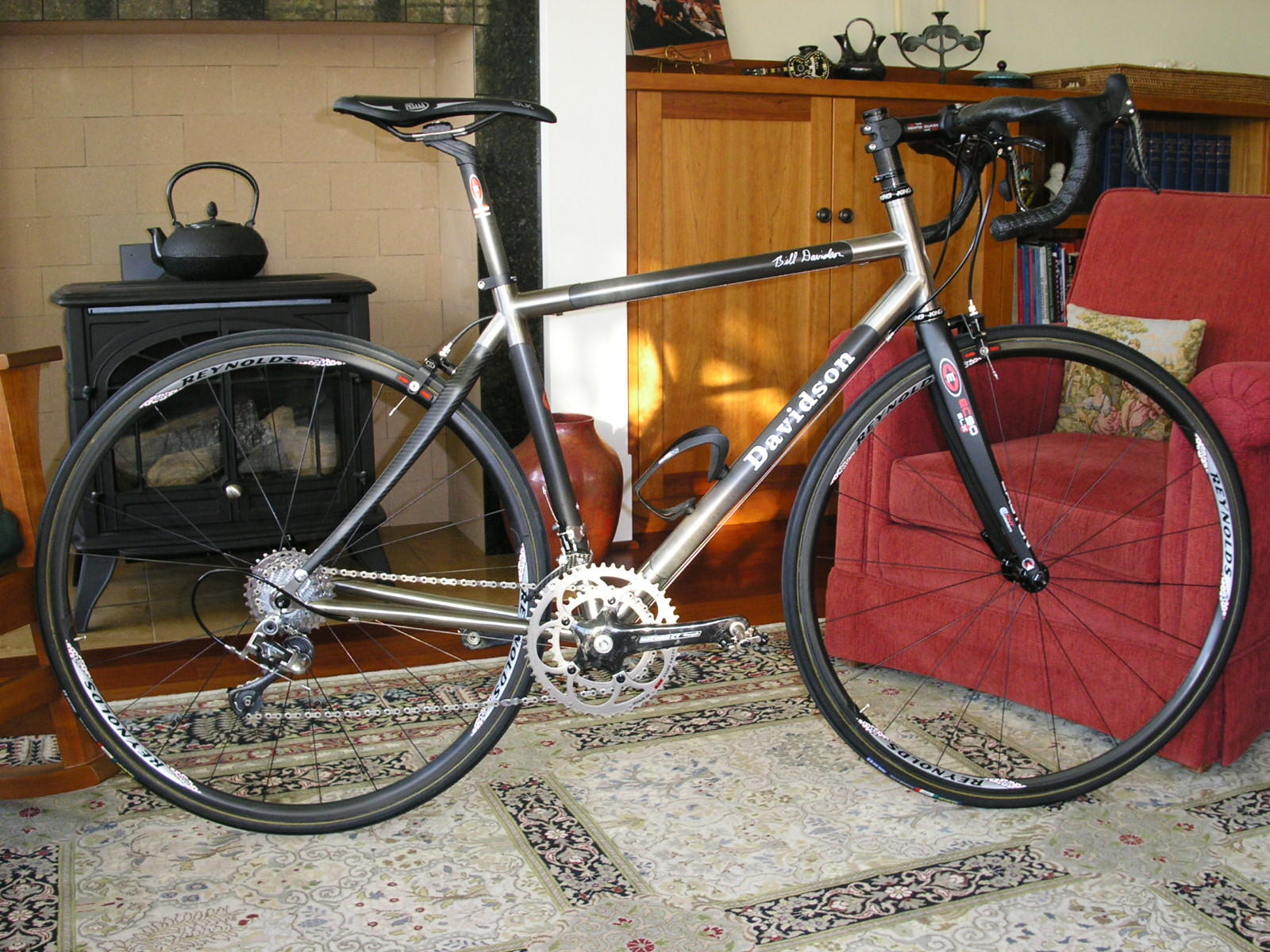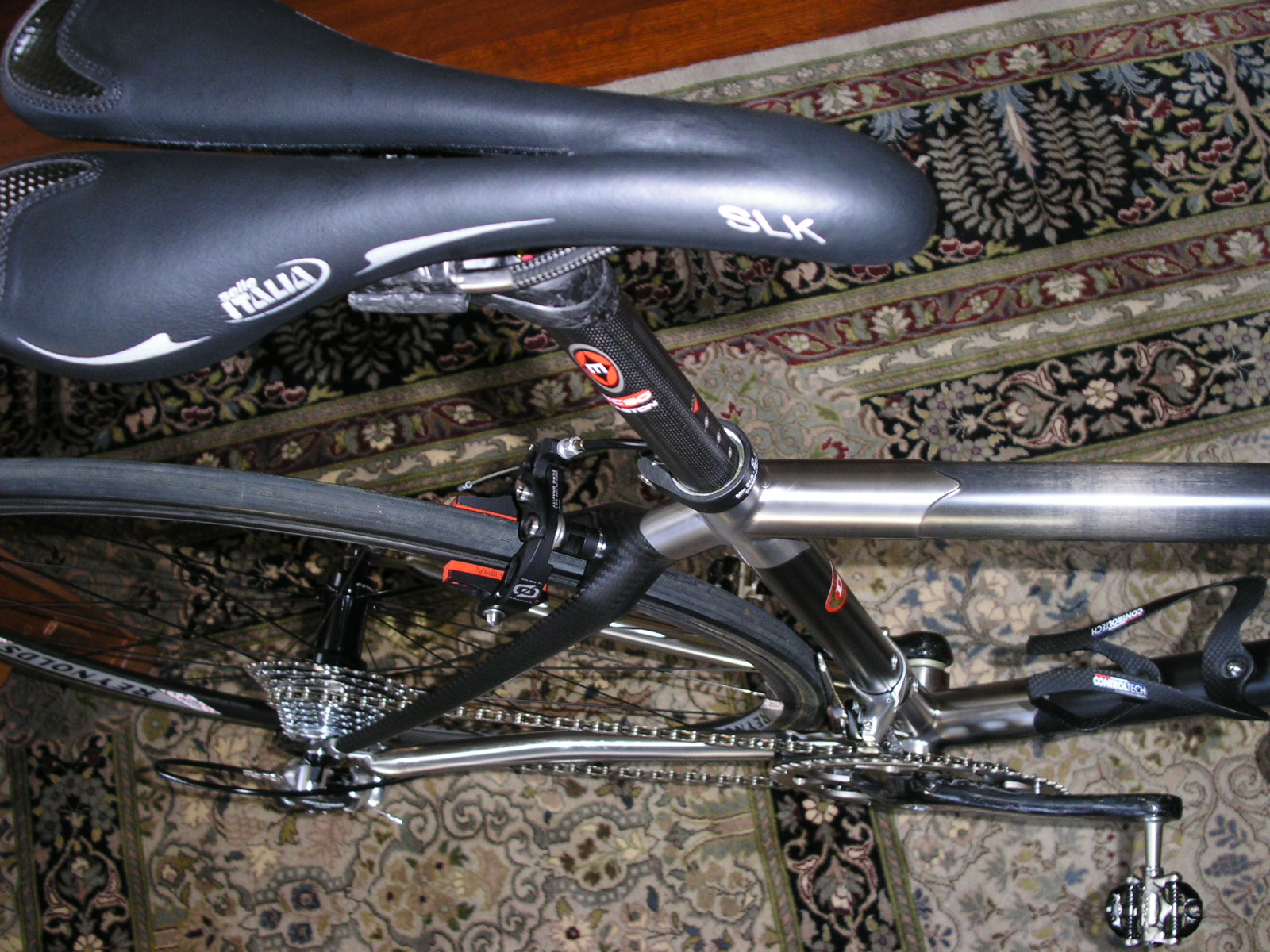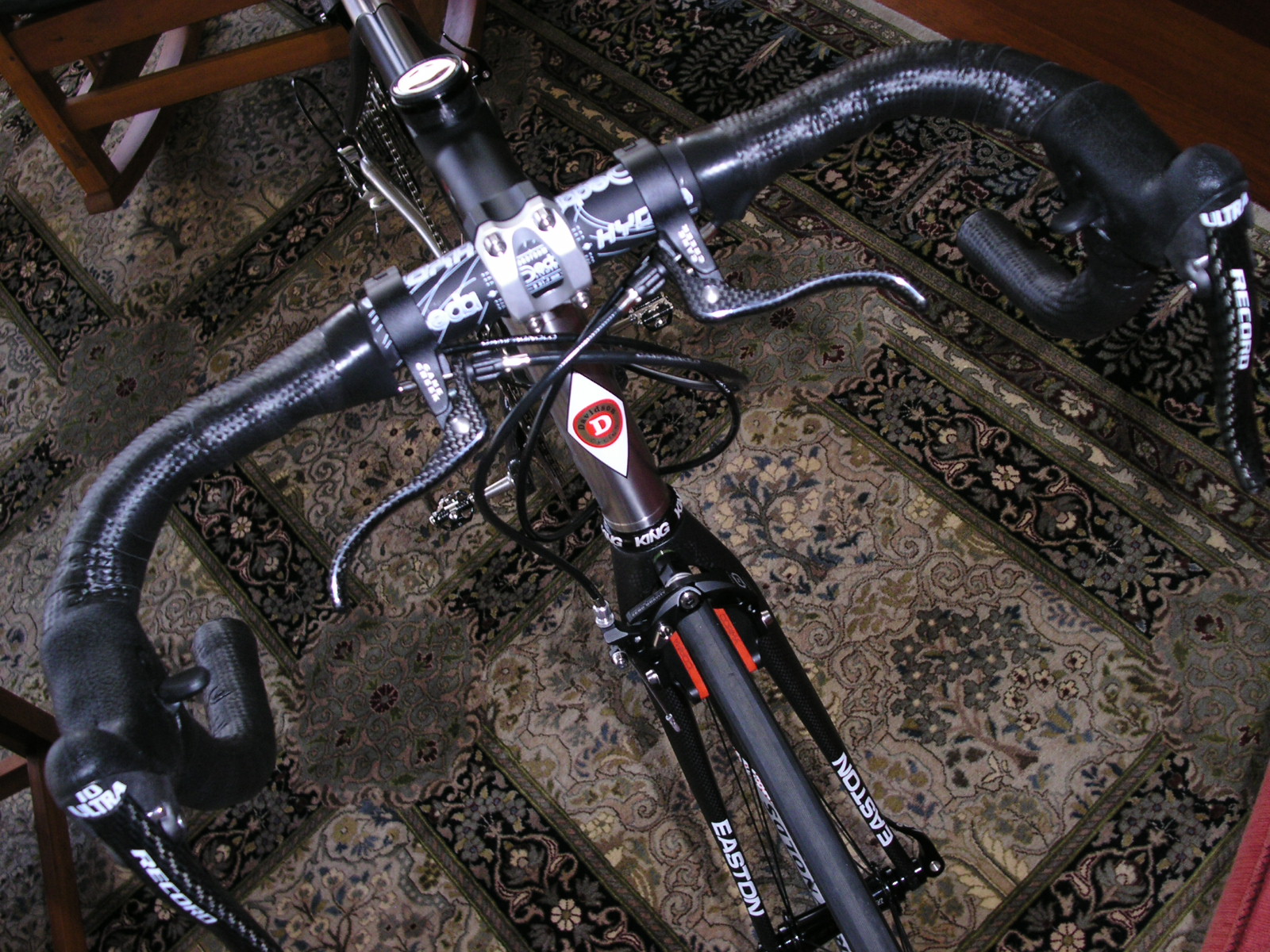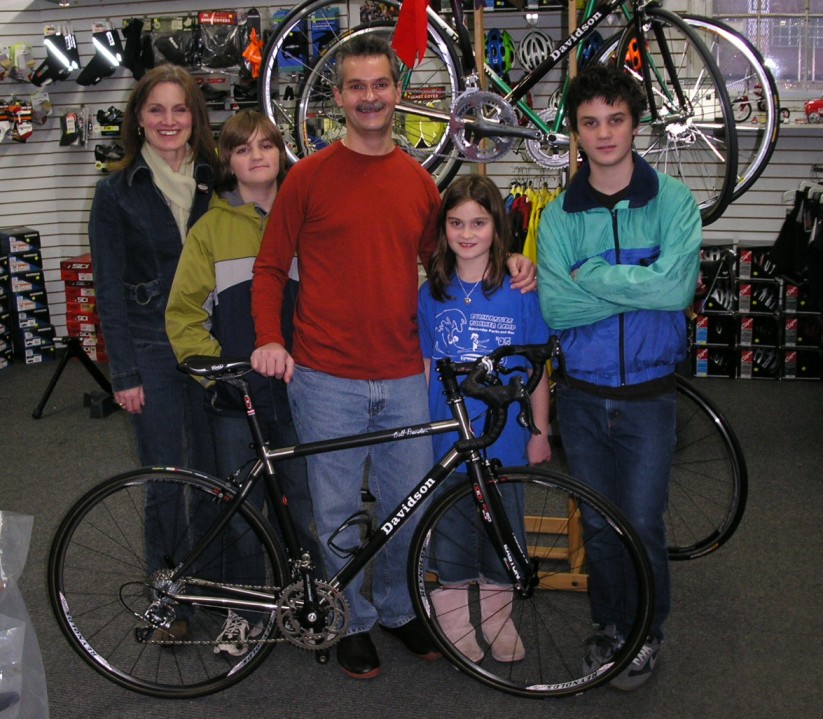 Given the time of year I received the bike, it had indoor privileges (as you can see from the pictures) for some time before I had a chance to take it on the road. In the meantime I kept spinning in indoor group classes, or on my own in the garage, to stay in some sort of condition. Though I had only a little actual "seat time" in preparation for Chilly Hilly 2006, Keith and I were able to complete the ride in dry but chilly conditions on my new Davidson. Cycling though was still in many ways sketchy for me, particularly in starting. I just did not have the ability yet to push off and ride away on my own power. I always needed another person to stabilize me for my starts, and still had to be seated, one foot clipped in, the other with a pointed toe touch, while Keith supported me on one side. This all worked better if I was pointed downhill too! Problem is, there are lots of hills here, and not all of them point downhill !
Next to follow, how Keith taught me how to bicycle completely unassisted.