Well, perhaps you are thinking this all seems too easy, or why did it take him so long to just advance to cycling on his own. You will have to believe me, it was not easy, though I had plenty of motivation to succeed, my spinal cord injury and general lack of balance and strength meant several falls were inevitable. Though Keith and I finished Chilly Hilly 2006 without incident, soon after that I was to experience quite a number of low speed falls. Being however an "experienced" cyclist, I always managed to land on my left (non-drivetrain) side, protecting my bike, yet causing a couple of left hip & elbow bruises along with a few head bangs.
To start on the bike required me to be pointing downhill, problem is though, we live at the bottom of a hill. So I would walk a bit up the hill, supported by another person I would aim downhill and away I went...briefly, because within 40 yards or so I had to make a U-turn and head back uphill before I ran out of road. This sort of worked, yet several hard falls over the course of a few attempts, made me realize I needed to devise some other method. I was also quickly getting tired of going down on my 14.8 lb. Davidson, so I began looking for an even more stable ride that could take some falls.
Briefly, I can tell you I thoroughly researched shifting and braking systems, frame design, cockpit/handlebar alternatives, wheel, tire and gear/drivetrain options. Though I tried a few of these systems out, even putting together one bicycle that just did not quite work for me, I finally settled on a frame design and controls that worked for my specific weaknesses.
While in the process of figuring out a more suitable bicycle, I had a "simple" ground level indoor fall while we were vacationing near Yellowstone National Park. This required left hand surgery once back in Seattle, followed by more hand specific rehab. The net effect was less functional use and strength of my left hand, particularly thumb and index fingers; which made it even harder to brake and shift my Campy Record equipped Davidson. Not to mention, loss of piano lessons and any progression of function I had found to that date.
In the spring of 2007 I placed an order for a custom Moots bicycle. This was then built up and delivered to me by Classic Cycle on Bainbridge Island. I was involved a bit in the frame design, then also hand picked all components, this time with success! At the heart, a cyclocross frame the Psychlo-X YBB, built to take more than a few hits. Curved and sloping top tube to allow ample standover height for weak legs; built-in rear suspension that keeps me stable over road bumps and ruts. GripShift shifters which I can operate with both hands; V-brakes which have excellent stopping power and require less lever movement to activate than road brakes. A carbon fiber wheelset to keep rotating weight as light as possible, with TUFO diamond tread 700 x 28c tires at 90psi and plenty of sealant in the tires to prevent flats. Compact 50/34 crankset with 11 x 32 rear cassette, which gives me a gear ratio I can get over most hills, AND most importantly allows me to avoid using a triple chainring!! Weight under 18 pounds.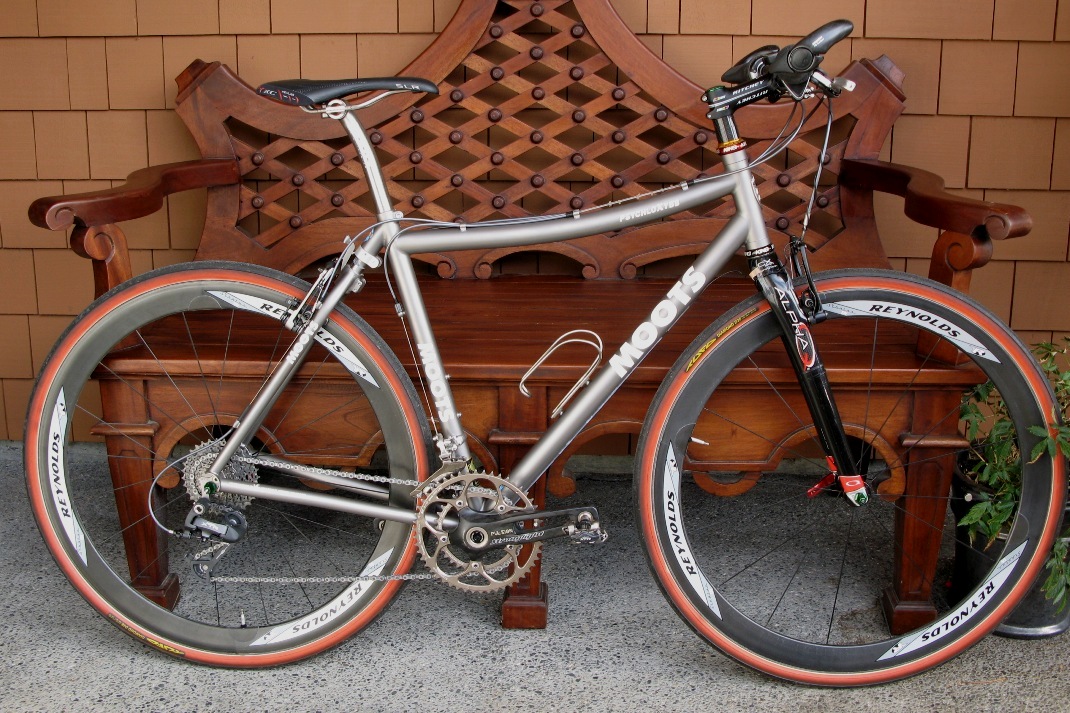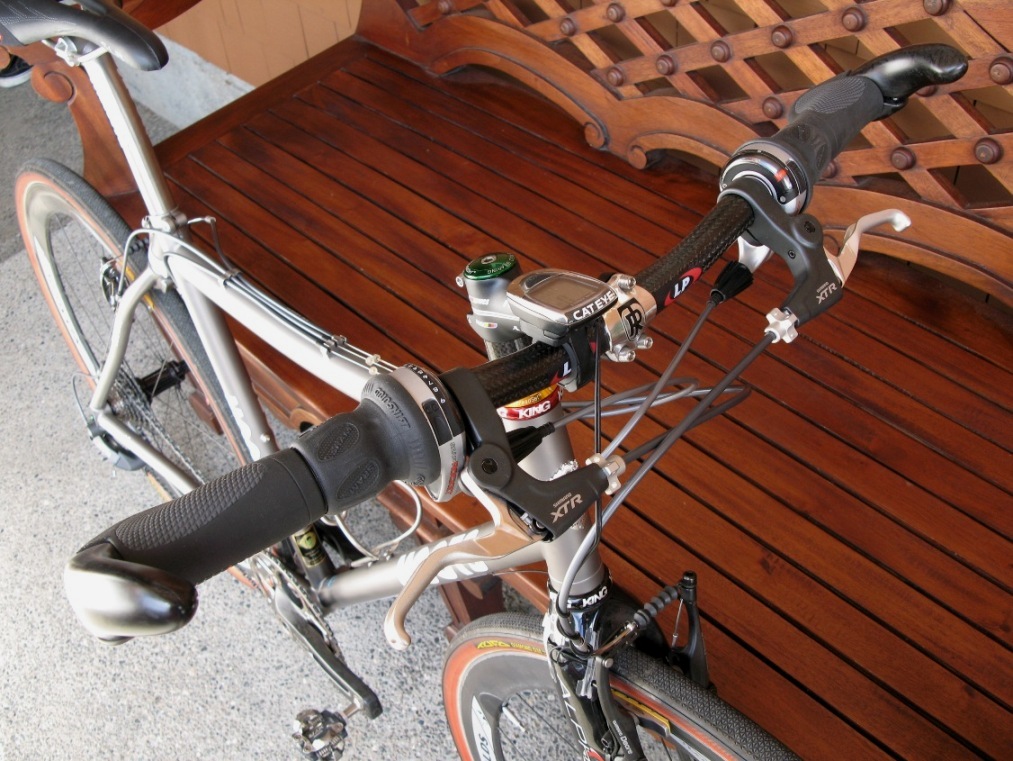 While I was awaiting the building and arrival of my Moots, Keith Heinzelman, my PT, and I had time to prepare; the goal was to teach me how to ride completely independently without assistance. If the following description may be helpful to some of you, Keith and I have thought about shooting a brief video of this. Basically the pushing off and mounting the saddle motion had to be dissected into pieces I could learn, then put together to be able to ride away. (Note: I found early on, I must use clipless pedals and cleats due to barely feeling my feet, particularly having very little idea of where my left foot is in space. If anyone is interested I can give details as to how I chose a pedal/cleat system after trialing several of them.)
For learning this motion, we went to the High School grass sports fields. Straddling the bike, hind end not on the saddle, two hands on the bars, one foot clipped in, I repeatedly only tried to push off with one foot over and over. For me, left foot clipped in at 9 o'clock position ready to push down, right foot on the ground ready to push off. Only attempting to get enough motion to travel a few feet through the grass. No attempt was made yet to pedal or ride, only repeating the motion over and over of pushing off with the one foot on the ground, and pushing down with the left clipped in. After perhaps 30 attempts I had learned to travel further and further with each push off.
Next, was combining the push off with placing my rear on the seat. No attempts yet to pedal circles. It was push off to get momentum, then lift the hind end a bit forward to clear the saddle nose, before sliding back to sit on the saddle. All the time in the grass field. Repetition was the key, each time the movements became easier and more coordinated.
Now it was time to combine them all, and after a few attempts I was able to ride away, adding the last part of clipping my right foot into the pedal. A few more times on the grass and we transitioned to the HS track rubberized surface. Wow! Hardly any rolling resistance compared to thick grass, and immediately I could push off and ride away! Moments later Keith and I were on the asphalt roads and I was good to go!
Soon afterward the Moots was delivered, and the setup turned out to be perfect! That was in late summer 2007, and within 8 weeks I had almost 600 miles on the bike. My only fall to date being an attempt to do again a very low speed U-turn. I have finally learned that if I am to turn around, simply stop, walk the bike around to face the new direction, push off and I'm on my way.
The last weekend in September is the Mike Utley Dam2Dam bicycle ride which raises money for spinal cord research. Mike himself is quite a personality, a C6-7 level quadriplegic, injured as a Detroit Lion in a pro football game in 1991. Our whole family signed up for the ride, which offers routes with various mileage. Even my trustworthy PT Keith Heinzelman showed up for the ride (which is about 150 miles from our home). Total family mileage for the 5 of us that day was over 260 miles! Keith, Evan, Gwen and I each riding a bit extra to get to 100km, or 62 miles! My goal for 2008 will be to get to 100 miles for the day. Here's a photo of most of us with Mike (missing middle son Daniel who was sound asleep in the car after riding 50 miles).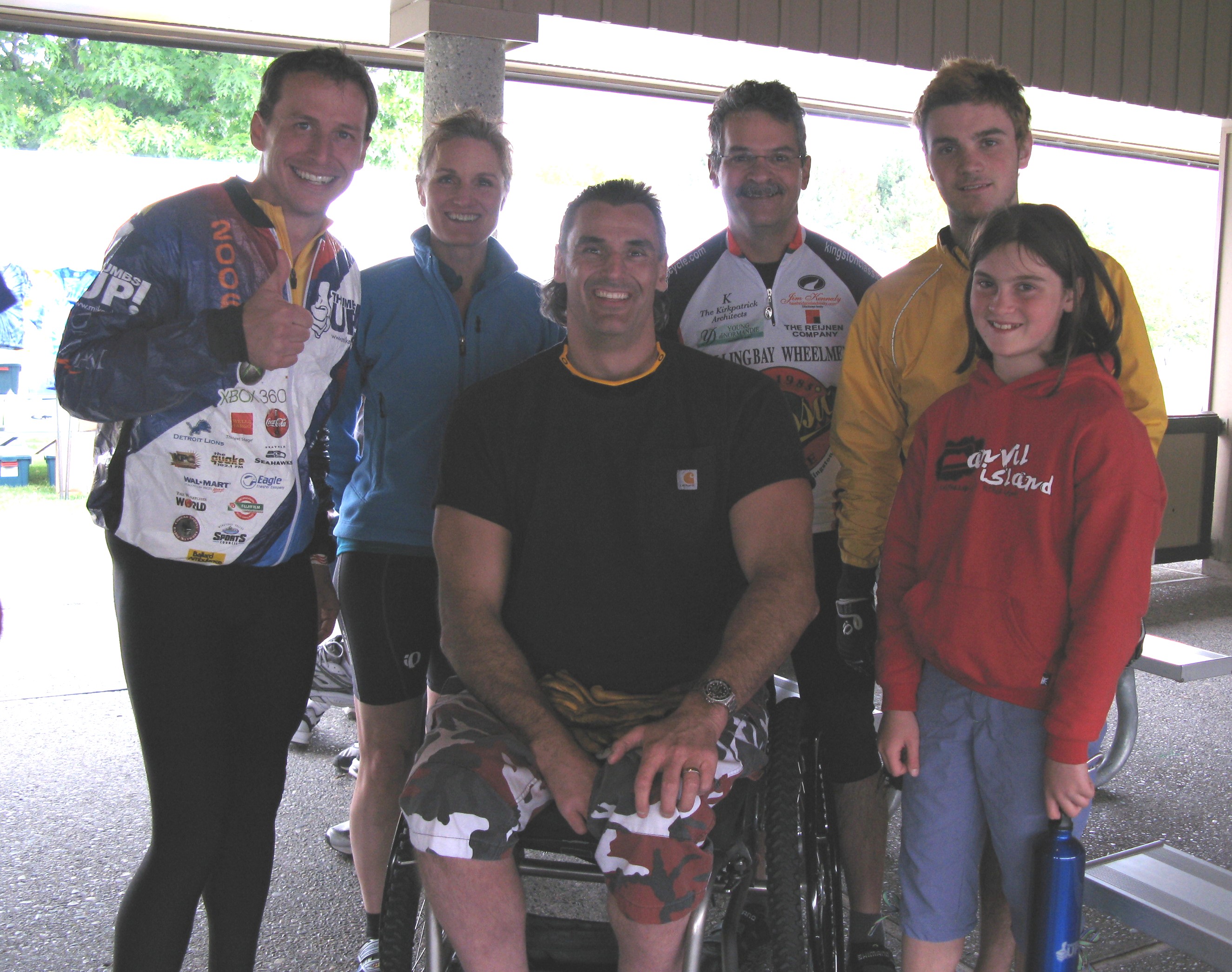 So that just about brings you up to date with my cycling adventures. I did ride Chilly Hilly this year 2008 on my Moots with son Daniel; thankfully the day was dry and warm enough. I plan to continue in group spinning classes usually 3 days per week, schedule permitting. I get on the road as often as I can when it is dry and above 45 degrees, often riding alone with my helmet mirror, rear flashing light, and cell phone in my jersey pocket. If I were to suffer a flat, it will mean using the cell phone. Clinchers or tubular tires, either way, a flat will end my ride that day as I do not have the hand strength to change a flat. So far, I am very happy with my TUFO tubulars and the sealant.